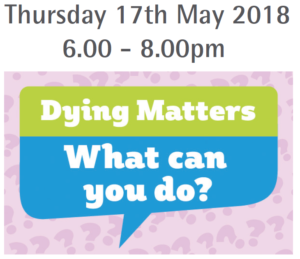 Come and meet all types of industry professionals, break down the taboos and take the fear and mystery out of death and what happens surrounding a funeral.
Are there questions around death and the funeral industry that you have been dying to ask someone?
As part of the Dying Matters Awareness week (14th – 20th of May 2018), Waveney Memorial Park and Crematorium (Warren's Lane, Benacre Road, Ellough, Suffolk, NR34 7XE) are hosting a drop in community awareness event on Thursday 17th May from 6 to 8pm, providing information and the chance for people to ask questions and talk openly.
Through this free and open to the public event, you will be able to find out about the various options available and considerations to bear in mind. There will be suggestions of personal touches that families can arrange themselves to create a unique funeral service. Industry experts will be on hand to answer any questions you may have and will include funeral directors, funeral service leaders such as civil celebrants, bereavement counsellors, experts in cremation, traditional and natural burials, palliative care organisations and representatives from local solicitors and bereavement support groups. There will also be lots of information available from other industry related organisations that can help people think about what they would like for their own funeral. This is not a sales event; there will be space for informal discussions for anyone who just wants to start the conversation and think about their own wishes.
Richard Houston, Manager of the Memoria Waveney Memorial Park and Crematorium in Ellough said, "This is a first for us, but we've seen, through the Dying Matters awareness campaign, all the other events taking place across the country and we think there is a need for open discussion here. Talking about death can be a bit awkward at first, but it is something we all have to face. We are proud to host this event and hopefully many big conversations will follow which, when had, will enable people to concentrate on living their lives to the full."
For more information about the event please download this flyer or call 01502 477200.