Waveney Memorial Park and Crematorium, based in Ellough near Beccles, have presented local child bereavement charity, Nelson's Journey, with a cheque for £5000 to be used to support children in Norfolk struggling after the death of a special person in their life.
The donation has been raised through a charitable scheme, operated by the Institute of Cemetery and Crematorium Management (ICCM), of which Waveney Crematorium is a member. Under the scheme metal from medical implants is recycled after cremation, with the consent of the family of the deceased. Twice a year the institute asks its members to nominate local charities, which help to support people to cope with the death of loved ones, to receive a donation.
This is the third donation that the Memorial Park has given to Nelson's Journey, with over £14,000 having been donated to the charity since 2016.
Nelson's Journey was founded in 1997 and celebrated its 20th anniversary in 2017.
Since its launch the charity has recorded a significant rise in the number of children referred to them after the death of someone special. During 2017, Nelson's Journey received 952 referrals and anticipates that the demand on their services will continue to grow.
Waveney Memorial Park & Crematorium Manager, Richard Houston said: 'We are pleased to be able to support the work that Nelson's Journey do. Locally, many families have used the service and we hope that this donation helps them to continue to provide that much-needed support for children coming to terms with the loss of a loved one.'
Gena Moore, Corporate Marketing and Funding Officer for Nelson's Journey said, 'We are so grateful for the support of Waveney Memorial Park and Crematorium through it's charitable scheme. To be the recipient of such a huge amount of money will go a long way in the help and support we can provide to children and young people in Norfolk who are dealing with the death of an important person in their life.
The money received through the scheme so far is enough to allow 57 children and young people to attend a therapeutic residential weekend where they can meet others who have had similar experiences, remember their special person and learn coping mechanisms to deal with their difficult emotions. We receive very little statutory funding, so donations like this from the local community help us to continue to meet the demands placed on our service.'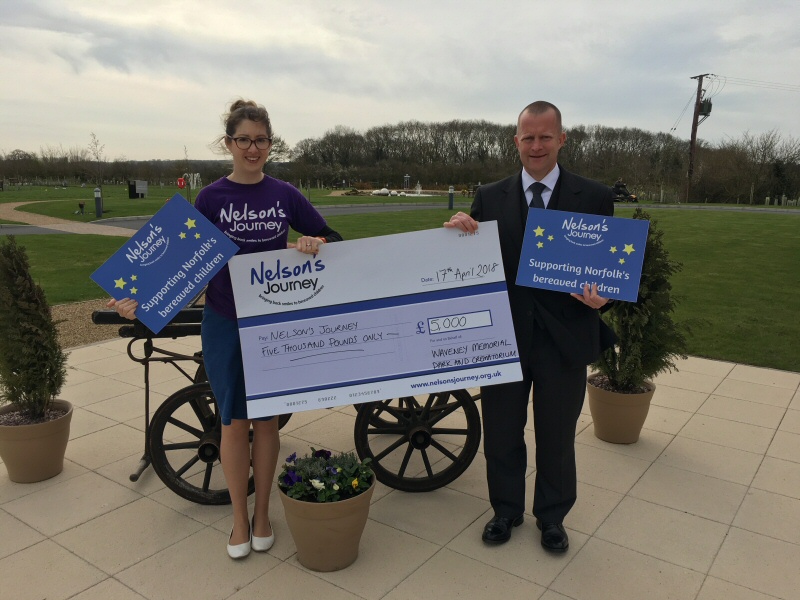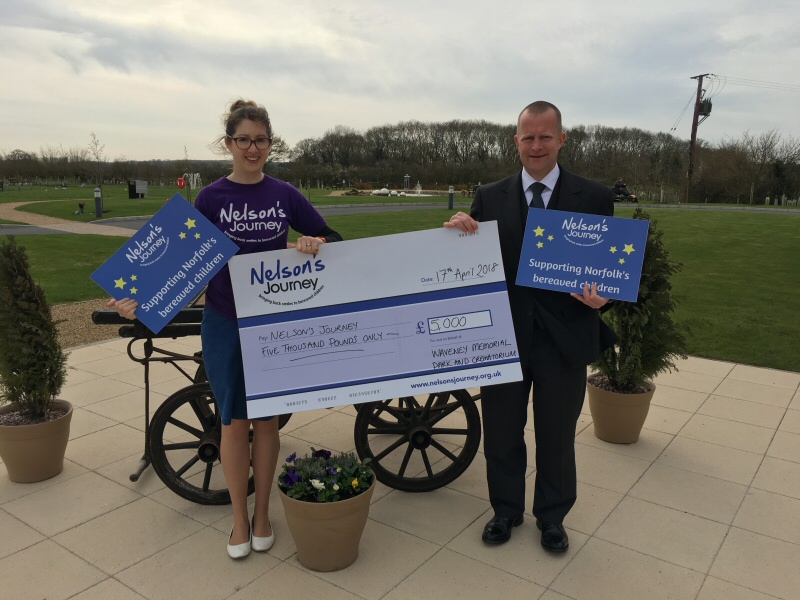 About Nelson's Journey
Nelson's Journey aims to improve the emotional wellbeing of bereaved children by: increasing their confidence and self belief, providing education about the causes of death, enabling families to talk openly about their bereavement. We also provide opportunities to remember those who have died and help children to express and understand their emotions.
Nelson's Journey endeavours to 'Bring back smiles to bereaved children'.